What Does Mobile Pet Microchipping Provide?
Convenience, Affordability, Simplicity, Confidentiality, and Flexible Scheduling because
A Microchip is a Necessity - NOT an Accessory ™
---
All This - One Price
(Gift Certificates optional)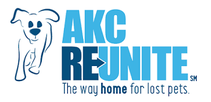 Door-to-door service to your home or workplace
Scanning for previously implanted microchips (required)
​AKC tag is included (at no extra cost) with your pet's microchip id # imprint
Personalized folder with FAQs, After Care Instructions; Emergency Wallet Card; Magnetic card w/AKC Emergency number; Framed Certificate of Microchipping and Enrollment in 2 registries; Earthquake Preparedness For Pets; Lost Pet Recovery Tips, and Pet Emergency Planning Guide
Same day registration into the American Kennel Club REUNITE program and American Animal Hospital Association (AAHA) , with FREE lifetime pet/owner updates and NO yearly re-registration fees
A current picture of your pet to help with recovery efforts
On-location secure pay - SSL encryption, PCI-compliant; most major credit cards accepted
Gift certificates (available)
Rate reduction for multiple-pet owning households
Hot Tip
: Some pet insurance companies will pay for part of the implantation PLUS give you discounts on your overall policy for a pet that has been microchipped! See
About Pet Insurance
Please call us or visit our
Pricing
page to see other services offered and to
schedule
a day and time convenient to your weekend schedule.
Contact us
if you have any questions, or want more information.
Will you microchip my pet at my home or office?
Yes. We are mobile and operate in seven Southern California counties. Please click: APPOINTMENT BOOKING OR CALL
818-426-4048
---
---
DISCOUNT FOR RESIDENTS OF PET-FRIENDLY DWELLINGS!
If you are an owner or management company of an apartment building or condominium complex, we offer a 10% forever discount for your residents. Please call: 818-426-4048. Help your tenants protect their pets!
---
Datamars & Bayer ResQ chips...

Click on logo to open in new window
Registration is free of charge for all prepaid Datamars and Bayer resQ microchips. If you're unsure about your microchip with THESE companies, just click on the "Register Your Pet" button (on their site) and follow the instructions.
---
---