Countries That Require Microchips Before Entry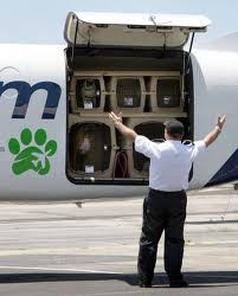 Overseas travel with pets. Mobile Pet Microchipping
European Union (EU) Member countries plus many others in the world require that a
pet microchip
must first be implanted in your pet to identify it. An ISO (International Standards Organization) chip is what we use for all pets we service. This is the microchip that vets animal shelters are most likely able to scan. If the microchip does not conform to ISO Standards, a standard (vs. universal) microchip scanner may not be able to read it when the animal is checked at the time of
travel
. If your pet is lost while in another country, the animal shelter or veterinarian who finds the pet may not be able to access the database and arrange for the pets return to its owner.
If your pet has a different microchip, we recommend you carry your own pet microchip scanner with which we can provide you, if given ample notice.
We're sorry, but these little units aren't cheap!
Microchip Scanner Rental is a flat $75.00 up to and including the first 30 (thirty) days. Each 2-week period thereafter is $50.00.
An initial Deposit of $285.00 is charged at the offset.
Once the scanner is returned in working, undamaged condition, you are refunded $200.00 ($285.00 less scanner rental of $75.00; less $10.00 processing fee). Each 2-week period thereafter is $50.00 and will be deducted from initial deposit.
NB: Should you lose, damage or otherwise render the scanner as inoperable or in marred condition, you must forfeit the entire $285.00.
Fresh batteries are included.
Please notify us immediately if you require scanner for a period exceeding thirty (30)days.A note on entry into another country with your pet(s) from the United States.
The U.S. is considered a rabies-free country.
IMPORTANT!!!!! Health certificates or "Certificates of Veterinary Inspection," are often required by airlines and the destination countries. BEFORE you waste your $$ on getting your pet "prepped" for travel - Call The Vet First to see if he/she is ACCREDITED TO ISSUE THE HEALTH CERTIFICATE! Warning: If the destination country's requirements are not met, your pet may be detained or quarantined upon arrival.
The ULTIMATE AUTHORITY on pet entry rests with that country's requirements, not the country from which you originate.
Rather than go from site to site to site looking for the requirements, most countries have detailed their requirements on pages specifically for this purpose. There is no need to contact embassies and/or veterinarians when it is just simpler to type into your browser something akin to "pet travel requirements for entry into France". Likewise for any country you wish to visit.
It is equally unnecessary to PAY for the form required for your veterinarian. These forms are also available on the Other country's websites for FREE, as a rule. Simply download the form to your computer, print and take to your vet or other professional who is ACCREDITED TO ISSUE THE HEALTH CERTIFICATE.
Make sure you check with your AIRLINE for their requirements regarding kennels, carriers, etc.
Be certain you follow all the instructions carefully and execute them in a timely manner.
Go to this EXCELLENT RESOURCE: http://www.cdc.gov/features/travelwithpets/ and thoroughly familiarize yourself with U.S. POLICY on travel and re-entry.
Below is a list of countries requiring a microchip, European travel (or anywhere else) with pets need not be a headache!
Here's a healthy dose of country requirements: http://1.usa.gov/1SpdwtQ. ALWAYS check that country's requirements IN CASE of updates not posted here!
---
---
Albania
Andorra
Aruba
Antigua Barbuda
Australia
Austria
Bahrain
Barbados
Belarus
Belgium
Bermuca
British Virgin Islands
Bulgaria
Canary Islands
Cayman Islands
Croatia
Curacao
Cyprus
Czech Republic
Denmark
Egypt
England
Estonia
Fiji
Finland
France
French Polynesia (Tahiti)
Germany
Gibralter
Greece
Guam



Hawaii
Holland Netherlands
Hong Kong
Hungary
Iceland
Ireland
Isle of Man
Israel
Italy
Japan
Jersey Channel Islands
Kuwait
Latvia
Lebanon
Libya
Liechtenstein
Lithuania
Luxembourg
Macau
Macedonia
Malaysia
Malta
Monaco
New Caledonia
Netherlands
New Zealand
Nigeria
Northern Ireland
Norway




Poland
Portugal
Qatar
Republic of Ireland
Romania
Saudi Arabia
Scotland
Sint Maarten (St Martin)
Slovakia
Slovenia
South Africa
South Korea
Spain
St. Kitts and Nevis
Sweden
Switzerland
Tahiti
Taiwan
Tenerife
Trinidad Tobago
Turks and Caicos Islands
United Arab Emirates
United Kingdom (England, Scotland, Wales, Northern Ireland, Isle of Man)
Wales