Note: While you are at any park, please remember just
TWO
very important things:
Pick up your dog's poop and dispose of it properly.
Do NOT let your dog eat ANYTHING off the ground. Ever, ever, ever, ever, ever.
---
Los Angeles City Dog Parks with Phone #s, Addresses, Driving Directions, and Operating Hours and other useful little tidbits. Click on any link you may be interested in.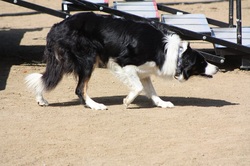 BARRINGTON DOG PARK
333 S Barrington Avenue, Los Angeles, CA 90049
GRIFFITH PARK DOG PARK
Located at north end of the John Ferraro Soccer Field on North Zoo Drive Los Angeles, CA 90027
HERMON PARK IN THE ARROYO SECO DOG PARK
5566 Via Marisol, Los Angeles, CA 90042
LAUREL CANYON DOG PARK
8260 Mulholland Drive, Studio City, CA 90046
RUNYON CANYON DOG PARK
2000 North Fuller, Los Angeles, CA 90046
SEPULVEDA BASIN OFF-LEASH DOG PARK
17550 Victory Boulevard, Encino, CA 91406
SILVERLAKE DOG PARK
1850 W Silver Lake Drive, Los Angeles, CA 90026
WESTMINSTER DOG PARK
1234 Pacific Avenue, Venice, CA 90291
WHITNALL OFF-LEASH DOG PARK
5801 1/2 Whitnall Hwy., North Hollywood, CA 91601
CRESCENTA VALLEY DOG PARK
3901 Dunsmore Ave,
La Crescenta-Montrose, CA 91214
(818) 249-5940
---
---
COUNTY OF LOS ANGELES DOG PARK INFO
Q: Can I bring my dog to any County park?

A: Dogs are allowed at County parks and on trails as long as they are on a leash and under the full control of the owner. Dogs are not allowed at the garden facilities.

Q: Do you have any off-leash County dog parks?

A: There are currently no County parks that allow dogs to be off leash. You may wish to check with the City of Los Angeles Department of Recreation and Parks, which does have several "dog parks".