Why We Started to Microchip Our Pets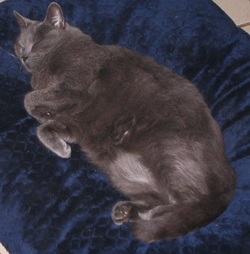 Nugget. Queen of All Cats (she demanded that title and who were we mere humans to argue!).

Nugget was a rescue cat who Ruled our Roost for years and years. An exquisite Russian Blue who dominated everyone and everything around her with just One Look. NO one messed with Nugget. She had a way with her voice...somehow adjusting the tone...to indicate her pleasure or DISpleasure with one short meow.

At one point, we moved to another area and a few weeks later Nugget escaped the confines of the yard. We spent days upon days, hours upon hours looking for her, putting up signs, making phone calls, checking websites, and visiting shelters near and far but to no avail.

A local shelter claimed they had picked up a cat that absolutely matched my description of Nugget but they had euthanized her because of injuries the cat had sustained. I was beside myself with grief. For a week I lamented and was inconsolable - mostly because this additional grief COULD have been avoided had she been microchipped; I could have positively identified her.

Nugget actually did return, in her own mysterious way, but the stress on the family and, of course, Nugget, was just too much! I everafter vowed that all my pets would be microchipped.
---
---
And here's Charlie, a younger pic....Exhausted after a day of joyous destruction!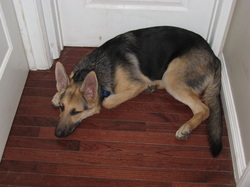 Ah, Charlie. Full of zest, full of life, vigor and mischief unparalled!

While walking my Schnauzer and two Doxies, I became aware that I was being followed. It didn't take a genius to figure out what it was when I spun around and felt two huge paws lunge onto my chest. Okay, yes, I was taken aback. And, for a moment, frightened and shocked. Until the slobbering on my face began. Thus, was my introduction to Charlie, the German Shepherd pup. No leash. No collar. No tattoo. NO MICROCHIP!!! Sigh.

She followed me endlessly, frolicking about yet staying close, while I began knocking on doors to find out just WHERE this dog actually lived. I also asked people if they had a spare leash or rope or even STRING to secure her to us because she also thought dodging cars was a fun activity. Gee, do ya think I was sweating bullets?

Hold three dogs on leashes with one hand and bend over and grab the scruff of a silly, wiggly, Let's-Play-Okay?-dog with the other while traffic goes whizzing by. It ain't easy.

Charlie escaped my grasp pulling me just far enough so I'd land on my knees and then she rushed out to meet a truck. Yep, you got it: she was grazed by the truck. You WOULD think the driver would stop. You would ALSO think that my screaming would summon anyone on the street to stop and help. Pfffft.

I came upon a clever plan to attach the other 3 dogs together and picked up this 45-pound goofball. My 20-minutes-back-to-home-walk took me 2 hours and 45 minutes. I spent a lot of time falling down.

Suffice it to say, we never found the owner, despite all efforts humanly possible, and, of course, here she is. I should have known she'd eat the couch, carry the cats and dachshunds around in her mouth. Curiously, they don't mind; she has a good heart and a gentle soul. She just lives by THROW THIS-THROW THAT-PLAY-TUG-OF-WAR-WITH-ME-NOW and LET'S PLAY "KEEP AWAY". Endlessly.

In a few short months Charlie would ultimately decimate the entire house and yard. Tackling fruit trees, 25 year old cycads (sago palms), prize-winning rose bushes, dormant bulbs, and creating a backyard worthy of a mine field. Yup, she pretty much took over as Chief Shepherdess. She even leads us around by our sleeves.

Charlie was the impetus to start Mobile Pet Microchipping and we wouldn't trade her for the world!
---