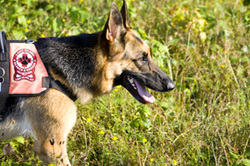 The
AKC Reunite Canine Support and Relief Fund
has been established as a permanent charitable fund with the goals of providing resources, support, funds, and other assistance to:
Not-for-profit Canine Search and Rescue organizations.


The not-for-profit veterinary units providing support to the canine rescue teams.


Not-for-profit animal shelters and similar not-for-profit organizations providing care for domestic animals orphaned or displaced as a result of natural or civil disasters.
Please note that funds may be requested or granted to support Search and Rescue Dog organizations in relation to past or current crises, disasters, and/or actual Canine Search and Rescue missions.
The genesis of this fund was the emergency relief fund established by AKC and AKC Reunite, which ultimately raised and distributed over $250,000 to organizations in the above three categories, as a result of the September 11, 2001 terrorist attacks on the United States. The permanent
AKC Reunite Canine Support and Relief Fund
will be in place to respond immediately in the future as needed.
The public may contribute to this fund and all such contributions are tax deductible.
---