| | |
| --- | --- |
| We want you to have as many tools available to you as possible. Taking steps to further insure the safety of your pets, we have crafted a Pet Emergency Planning Guide to help you plan for any eventuality. | |
---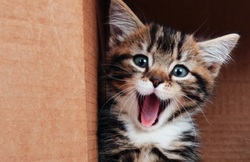 ​About Mobile Pet MicrochippingMobile Pet Microchipping
is the only pet identification service exclusive to Southern California which microchips your pet in his or her comfortable surroundings. Our commitment to your pets ensures that they are equipped with the ultimate in animal protection by combining technology with convenience, affordability, and compassion. Licensed. Certified. Insured.
We're all about Happy Reunions and we know even the most beloved pets can get lost. You can safeguard your pets for life with our
ISO-compliant AKC* supplied microchips
.
American Kennel Club Reunite
, the enrollment/registration service, does
not
charge annual fees or record update fees for the lifetime of your pet.
Whether your companion is a dog, cat, horse, ferret, rabbit, llama or lemur - they
all
deserve to be reunited with you in case one becomes lost or is stolen. Your best protection is the convenience of a collar ID coupled with the
permanent
ID that a microchip provides.
Please call or
Book an Appointment
to have our licensed, certified, and insured microchipping agent Protect Your Pet. The road to recovery of your pets is a phone call away!
NEW! Simple on-line pre-enrollment form!!
Perfect for any pet-owning household and working solely at your convenience - any location, date, and time* of your choosing. No waiting with contagious animals, paying additional enrollment fees, looking for parking, nor taking time off from work. We will come to where your pet feels most comfortable.
If you are looking for a microchip for your dog, cat, ferret, or horse, we're here to help facilitate that.
Traveling? Don't even think about taking your pet without its proper identification! Read more here
Check out our PowerPoint presentation on "Losing Pets is NOT an Option" Read more here
Implanting a microchip in your pet leaves a unique ID number for the purpose of distinguishing your best friend (or valuable investment) from others while assisting in their recovery and return if he or she becomes lost, or worse, stolen. We utilize the most current industry standard Universal Scanner/Reader and the microchip is ISO-compliant (which means your pet
may travel overseas).
Overseas travel with pets need not be a headache!
The process of the implantation will cause momentary discomfort that is similar to a pinch. When you consider that chances of finding your microchipped pet increase exponentially, the choice is clear. As far as your pet remembering the event, it's a distant memory in a matter of minutes. Furthermore, your pet will not "hate" you for the microchipping procedure.
Whether you choose to use an RFID microchip, tattoo, tags and collars, or GPS locators, pet identification is as important as vaccinations, spaying and/or neutering. We trust that you are as vigilant about your pet's safety as you are for your "human" family members in taking measures to protect them.
Please Note: If you have just purchased or adopted a microchipped pet, immediately read the documentation given you. Just because your pet has a microchip, the device is actually ineffective unless it is officially entered into a pet recovery program. 40% of all microchipped pets have NOT been registered in a pet recovery program. We register your pet free IN TWO SEPARATE pet recovery services with the full service where you will incur no additional cost for future changes in your information. There will NEVER be yearly renewal fees.

Some pet insurance companies may pay for part of the implantation PLUS give discounts on your overall pet medical policy. All your personal information is kept completely confidential, except for standard pet information in the pet recovery registry (American Kennel Club REUNITE program).

The most comprehensive information site about microchipping your animals may be found here and on all our pages. If you still have questions about microchipping, please call: (818) 426-4048 and we will be happy to answer any and all questions!OPERATING: Saturdays, Sundays and Holidays.
---